Sanitizer Spray Booth – Sanitizer Booths with Tempreture Reading
Description
DISINFECTANT CHAMBER WITH THERMAL SENSOR Disinfectant Spray Booths With Tempreture check and Disinfection. 10-12 person/min ,Out side dimension: 2200x1250x2300mm(LxWxH) Bispectral Thermal Imaging Thermometer Chemicals Not included - Lead Time 6-8 weeks Price based on 5-10 units ordered DELIVERED AND INSTALLED
read more
Continue Shopping
Lead Time Order
Description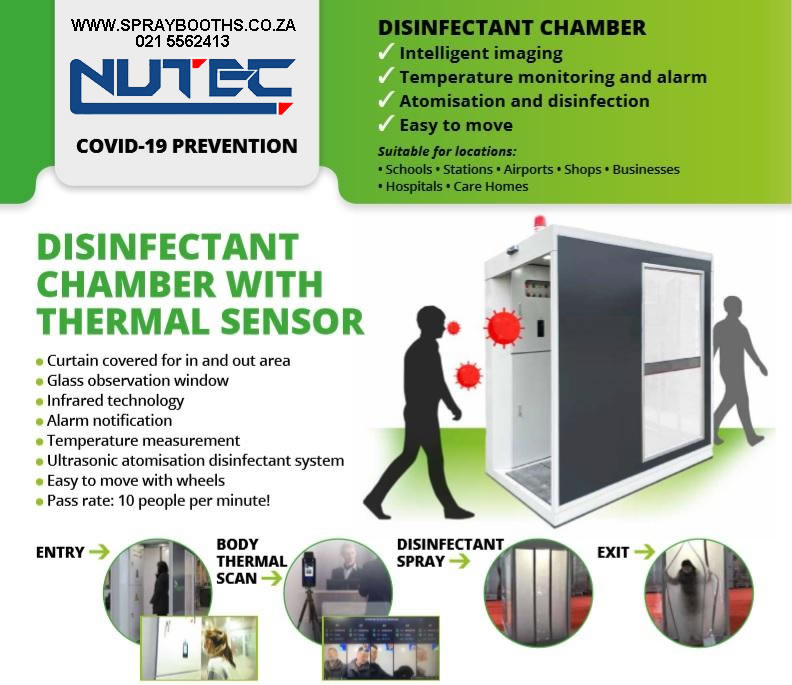 DISINFECTANT CHAMBER WITH THERMAL SENSOR
Nutec Machinery offer this product which is a revolutionary approach to tackle COVID-19 and protect people from all sectors including schools, stations , airports , shops , Office complex's , Gyms, Leisure Centers,  Hospitals, care homes, bars and restaurants.
Curtain covered for in and out area Glass observation window
Infrared technology Alarm notification
Temperature measurement
Ultrasonic atomisation disinfectant system
Easy to move with wheels
Pass rate: 10 people per minute!
Specification
1) Main body:
Outer dimensions: 2200x1250x2300mm(LxWxH) Net weight: 330kg/unit
2) Bispectral Thermal Imaging Thermometer:
A Thermal sensor: Vanadium oxide non-cooled type detector Display Image Size: 40x80mm (Internet connection computer and monitor) Thermal imaging lens test distance: 50–80cm
B Visible light sensor: 2 million starlight Minimum illuminance: 0.0018 lux. Optimal distance of temperature anomaly: 50–100cm
C Image function: Double light fusion: Support thermal imaging channel fusion visible light image information, enhance thermal imaging channel image details; Drawing: Support visible light channel in the form of painting superimposed thermal image picture;
D Alarm function: White light alarm and sound
E Temperature measurement function: Temperature measurement range: 20–45°C Temperature measurement accuracy: Human body temperature measurement ±0.5°C Temperature anomaly optimal alarm distance: 0.5–0.8 m
F Storage function: can be read through the Internet external computer cloud
G Interface function: support 1-channel open type relay output; support 1-channel RJ45 interface; equipped with RS485 interface.
H Power input: DC12V (standard DC12V power adapter set); maximum power 8W I Working Temperature and Humidity: -10°C–40°C <95% Relative Humidity Protection level: 1P66
3) Ultrasonic Automisation Generator
A Fog Add: 5kg/h (Disinfection solution consume 5L/h)
B Voltage/frequency: 220V 50Hz Power: 600W
C Water intake: Manual – tap water
D Anti-shock Protection: Class I
E Ambient temperature: 1–40°C
F Quality of water supplied: Tap water (or solution with a ratio of tap water) Disinfectant Choice: Quaternary ammonium salt and water (ratio 1:100).
4) Control System
A Turn on the equipment power circuit breaker, loosen the emergency stop switch, power indicator light;
B Turn on the atomisation disinfection switch, turn on the atomisation humidification function, disinfection indicator light;
C Turn on the lighting switch, the channel lighting;
D When stopping the temperature measuring and disinfecting operation, it is necessary to turn off all the switches on the control panel, press the stop button, and turn off the circuit breaker of the equipment power supply system.
Other Remarks 1 Pass rate: 10 persons/min
Enquiry
Related Products
Ceiling Filter Media 560 – 600 1.6m x 20m
Triton R4,990.00 Excluding Vat
SB7 Waterborne Spray Booth
HIGH END Lead Time Order
4 Post 220v 4 ton Lift Standard
Triton R119,000.00 Excluding Vat
Lead Time Order