Truck Loading Ramps | Forklifts Loading Ramp
Description
Truck Loading Ramps - 10 tons Made to Order - Lead Time 8-12 weeks from placement of Order Mobile Dock Ramp Aka Truck Loading Ramps By Hand Pump.
read more
Continue Shopping
Lead Time Order
Description
Truck Loading Ramps
Standard Paramenters
l Overall length:11m
l Outer width(total width):2m
l Inner width(useful width for forklift to pass):1.9m
l Lip length:400mm
l Adjustable height range:1.2m~1.7m Estimate
l Slope floor length:8.2m
l Flat table length:2.8m
l Guard rail height:250mm
l Wheel diameter:600mm
Hydraulic dock ramp
is a kind of auxiliary equipment for loading and unloading goods. Container dock ramp it can adjust its height to achieve the distance between the unloading vehicle and dock level ramp is a very convenient unloading platform.
Mobile dock ramp is a special equipment for forklift truck to load and unload goods directly from the ground to the Truck. Mobile loading dock ramps can transfer the loading and unloading site at any time to realize the rapid loading and unloading of goods. The dock ramp can be easily transferred to the working position by using the forklift to pull or push. The forklift can freely pass the loading bridge and drive between the truck and the ground to realize fast and safe loading and unloading.
Quality & Advantages
1.The bridge frame is made of high strength manganese steel and unique welding process, which has high strength and large bearing capacity.
2.The metal dock ramp adopts solid and durable tire, which does not need to inflate. It is used with brake pad to ensure the safety of operation.
3.The portable dock ramps adjustable length cable chain is used to hook the vehicle, so that the mobile boarding bridge and the vehicle will always fit tightly even when they are displaced.
4.The mobile loading dock ramps is laid with a layer of thick toothed anti-skid chequered steel grid, the mesh is twisted and hollow, which can improve the reliability of the work
5.The lip plate is made of a whole steel plate by finishing with a large milling machine without deformation.
Mobile dock level ramp mainly used in warehouses, docks, factories, stations and so on.
Terms and conditions applicable
Client To arrange their own offloading Facility when the goods get delivered
Installation Cost are Extra Please enquire
However they come with a comprehensive set up manual
Additional information
Additional information
Length 11000cm  x Breadth 2000cm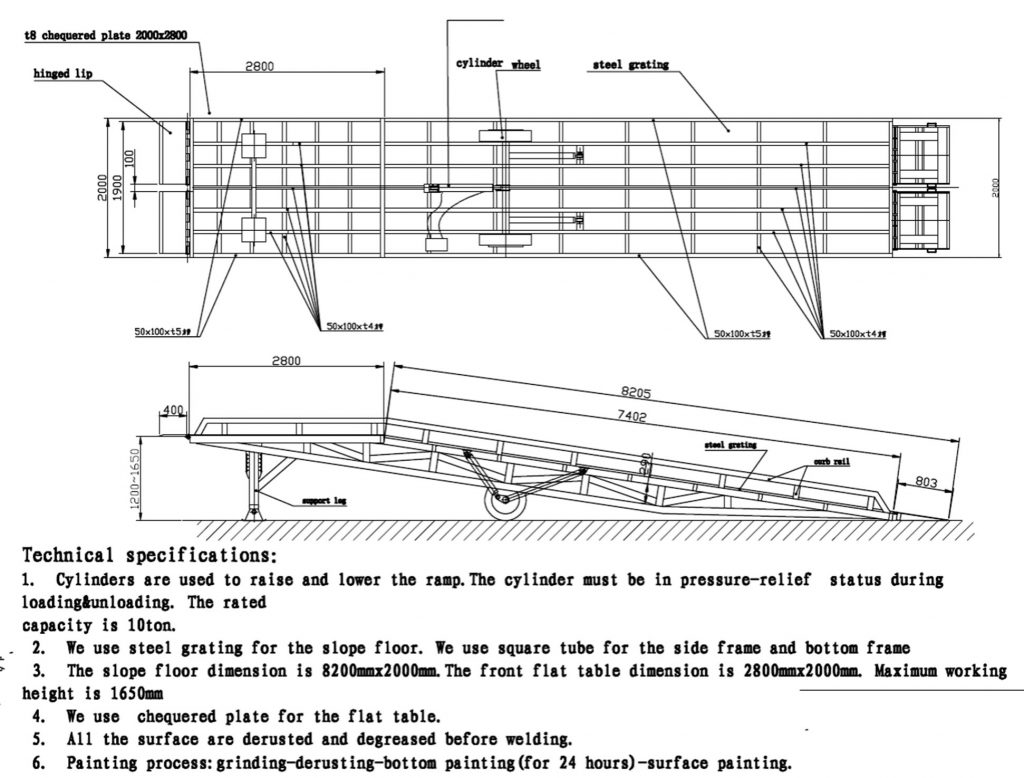 Reviews (0)
There are no reviews yet.
Enquiry
Related Products